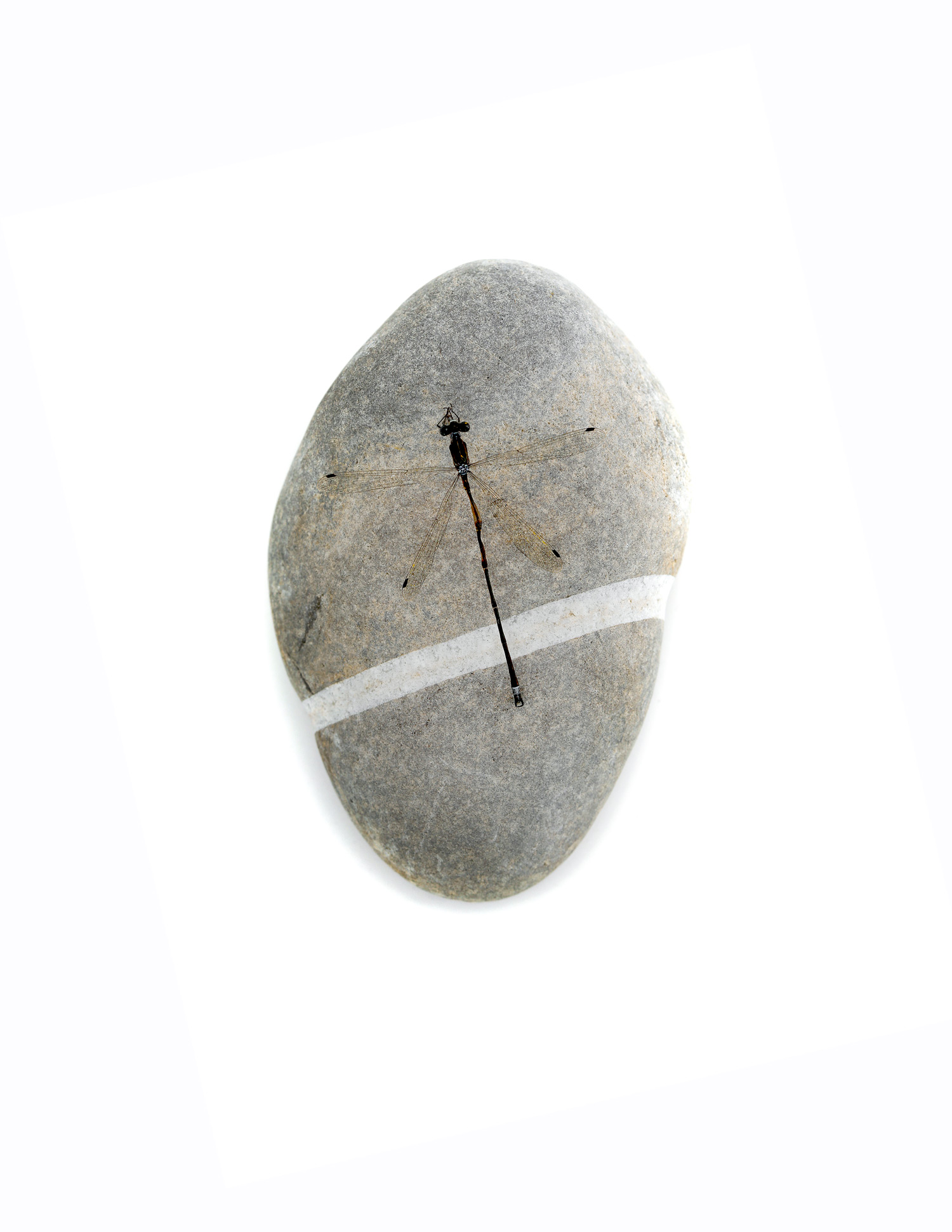 fragility
one of these two is a voracious and deadly predator, and the other is a placid-looking, if dashingly striped beach stone. here's what i like to imagine about these two. that the dead damselfly, whose life was so filled with darting and tense scoping out of elusive prey, is still, and carefree and at peace. and the stone, which may not have moved for years and possibly decades, has its muscles tensed in dynamic resistance against the relentless efforts of gravity to pull it into the center of the earth. the damselfly is quite placid. and the stone is completely stressed out.
striped beach rock with damselfly
asteraceae
when my husband or best friend and walking partner ask me "what flower is that?" i will often answer, i don't know but i am sure it is the Asteraceae family. it's an inside joke.  because after eight years of looking up new-to-me wildflowers, it seems that the overwhelming preponderance of them belong to the asteraceae family. the other thing i have noticed, is that wiki is getting updated all the time as new genetic identification reclassifies many of our wild plants. in fact, just tonight, i saw for the first time at the top of the Asteraceae page on wiki, the following: "TheAsteraceae family includes over 32,000 currently accepted species, in over 1,900 genera (list) in 13 subfamilies.[7] In terms of numbers of species, the Asteraceae are rivaled only by the Orchidaceae.[5][8] Which is the larger family is unclear, because of the uncertainty about how many extant species each family includes.". so, my inside joke, my intuition, has been right all along.
aster blossoms
green thumb
i happen to be unable, for some reason, to kill a plant. nothing i've ever grown in our house has ever died, to my knowledge, unless a housesitter has stepped in for me while we were in france. today's photo is a succulent that grew for months as a pretty little rosette of tiger striped green leaves, and then one day decided to grow an enormous, ungainly center stalk that flowered, or is about to flower, like this photo. the problem is, i tried to identify the plant by its unique and spectacular flowering stalk, and couldn't fine it anywhere on the internet. come on people. where are the flowers?  did you all kill these plants before they bloomed? i refuse to believe i'm that good.
succulent flower (zebra haworthia)
ech…
the greek word for sea urchin is αχινός (achinos). the greek word for hedgehog is ἐχῖνος (echinos). the latin word for both is echinus. and so these flowers with their urchino-hedgehogish spiny centers are called, as every visitor to an herbal supplement store already knows: echinacea. But the association i just realized tonight is that there is a hedgehog-like animal that every parent of a nature-loving child knows by heart: the adorable and very strange echidna, and so we have come full circle from ancient greece to modern-day australia.
coneflowers (Echinacea)
fora and fauna
this was originally intended as another experiment in asemic writing, and then as i processed the photo, it turned into an experiment in differentiating dried fern leaves from grubs dug up in a garden. your choice. a coded treasure map. a page of dried fronds. or a feast of segmented fauna for wild fowl.
dried fern leaves