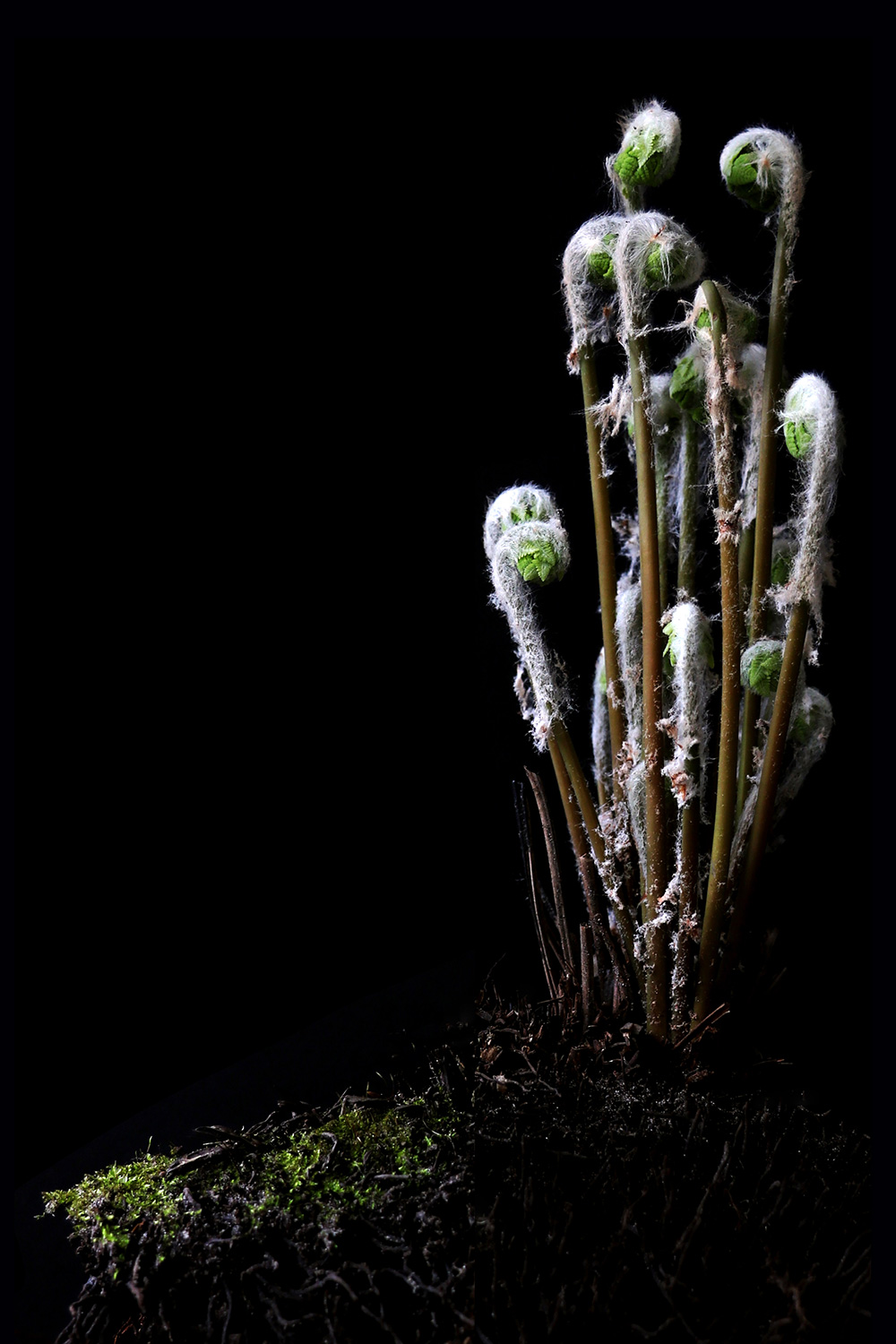 newborns
these new ferns look as if they're straining. their heads look bowed in concentration, as if they're thinking hard, but don't know the next step. i know it's dumb to personify plants, but i can't help wishing they had a mama to lick off that fuzzy afterbirth, and stroke them upright with her tongue.
young fiddle head ferns
turtle lake, shoreview, minnesota
endless supply
yes there is an endless supply of beach rocks but that's not what this title refers to. it's about the fact that i have an endless supply of enthusiasm for the shapes and patterns of the rocks i find. look how this one appears to have been wrapped in spiral muslin like a mummy. i mean really. how could you ever get sick of beach rocks?
striped mediterranean beach rock
sète, france
this was a frustrating one. the original branch of proto-blossoms was so beautiful, and complex, and subtle, that i thought i wanted to fit the whole thing into the frame. but then it just looked like a branch, once it had been translated int 2D. so i cropped in closer, and the buds came into more focus, but i had lost the great sweep of the branch as a whole, and it was neither about the blossoms, nor about the branch. so i came in really close, and the buds were sort of palmed in a fascinating way by the green fingers of their calices, but then it felt like any other close-up still blog photo. so i pulled out a little farther and took this photo, which captures the little jesters caps of the blossoms well enough, and hints at the beauty and abundance of the branch as a whole, but is, in the end, a compromise not a celebration. and then i ran out of light. so you get this story, instead of the photo i had in my head when i first clipped this branch from a crabapple tree that will soon explode with thousands of silent white detonations.
blah
crab apple buds
rice creek trail, shoreview, minnesota
i photographed this maple blossom after spending an entire evening watching migratory warblers fluttering around the top of the sugar maple next to our rear deck. but that's not the story i want to tell. the story i want to tell is about how i photographed this blossom over a period of maybe 5 minutes, and as i scrolled down the 20 or so resulting photos on my computer, i could watch the blossom head gradually droop a little bit more in each frame, like one of those old decks of cards that show you a short movie when you shuffle through them fast. it reminded me of how short all of our lives would be without water, and then in a bigger way, how short our existence will be, and how much beauty will be lost, if we don't take better care of this earth of ours. my unoriginal but heartfelt earth day thoughts, for what they are worth.
sugar maple blossom
saint paul, minnesota
today in the backyard we watched two robins stalk toward each other and then flitter up in the air like fighting cocks, over and over again. they must have been exhausted by the end of the night. but they kept fighting and walking away, and then coming back to fight some more. one of them had decided that this piece of ground was home. and the other had decided that the first guy was wrong. and home is not something you take lightly.
assorted bird nests