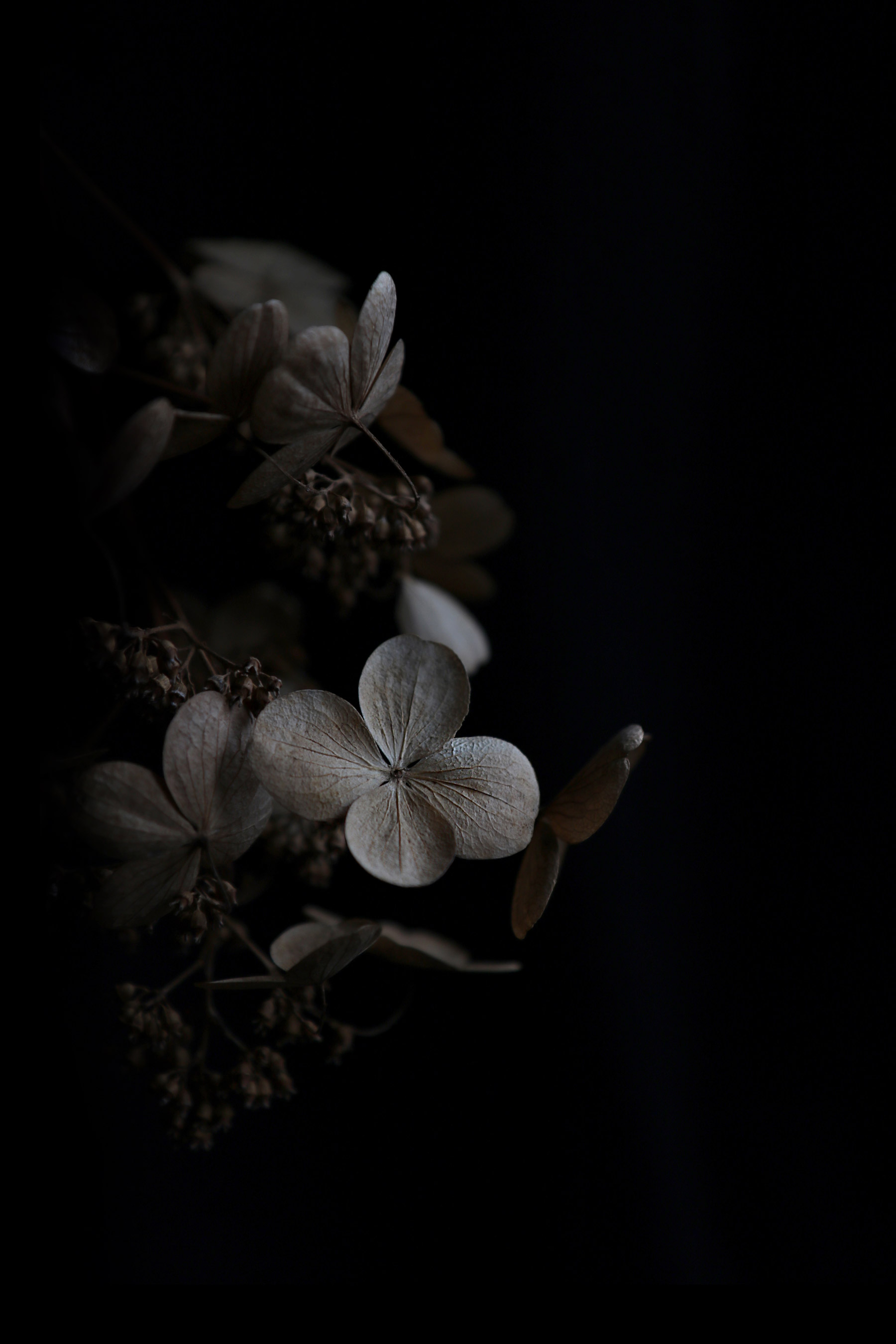 sidelight
so of course, now that i have decided to switch back to a white background, i am seeing all the things i love about black. like the veiny details of this hydrangea flower, that are amplified by the side lighting that works so well against a black background. it's like i just decided for sure to break up with my high school boyfriend, and now he's driving away and i'm so, so sad.
lacecap hydrangea in winter
hope and its opposite
dried bract and empty seed pods, hanging next to buds full of sap. it's good to see both sides of the optimism/pessimism spectrum. i was a bud who married a bract. and now we are both a little of both. which is a kind of growth all by itself.
winter basswood branch with buds and seed bract
weatherbeaten
this wasp nest looks a little weatherbeaten, and it reminds me of a weatherbeaten cabin out there somewhere in the north woods, grayed by wind and snow and rain, with a couple of shutters hanging cockeyed. i've never really thought about the word "weatherbeaten," but it's a good word. here in the north, we pride ourselves on our immunity from the excesses of weather that would leave people from other regions prostrate. but the weather does beat you here. it throws punches, and scratches your skin, and issues threats. we fight back. but we are all a little bit weatherbeaten.
paper wasp nest
getting there
ok i think i've got a vision for the next year of still blog. it is good to have smart friends who are willing to brainstorm with you, and who are capable of seeing the world not just from their own perspective but from yours as well. one of the options under consideration was black and white photos by the way, but i don't want you to see this photo and think that that is the direction i've decided to go. i haven't finalized everything yet, but i think i'll be returning to white backgrounds, sticking with color photos, and liberalizing, just a tiny bit, the constraints i've placed on what subject matter i'm willing to consider as still-blog worthy. more to come. can't wait.
unidentified found feathers
speechless
i'm not technically speechless. i could find something to say about this feather. about the possible reasons behind its evolutionary necessity. about how remarkable it is that the patterns are so three dimensional and that they run almost independent of the grain of the feather's barbs. but i think in this case an awed silence is the most eloquent tribute to this monument to nature's strangeness and beauty.
great argus pheasant wing feather (Argusianus bipunctatus)