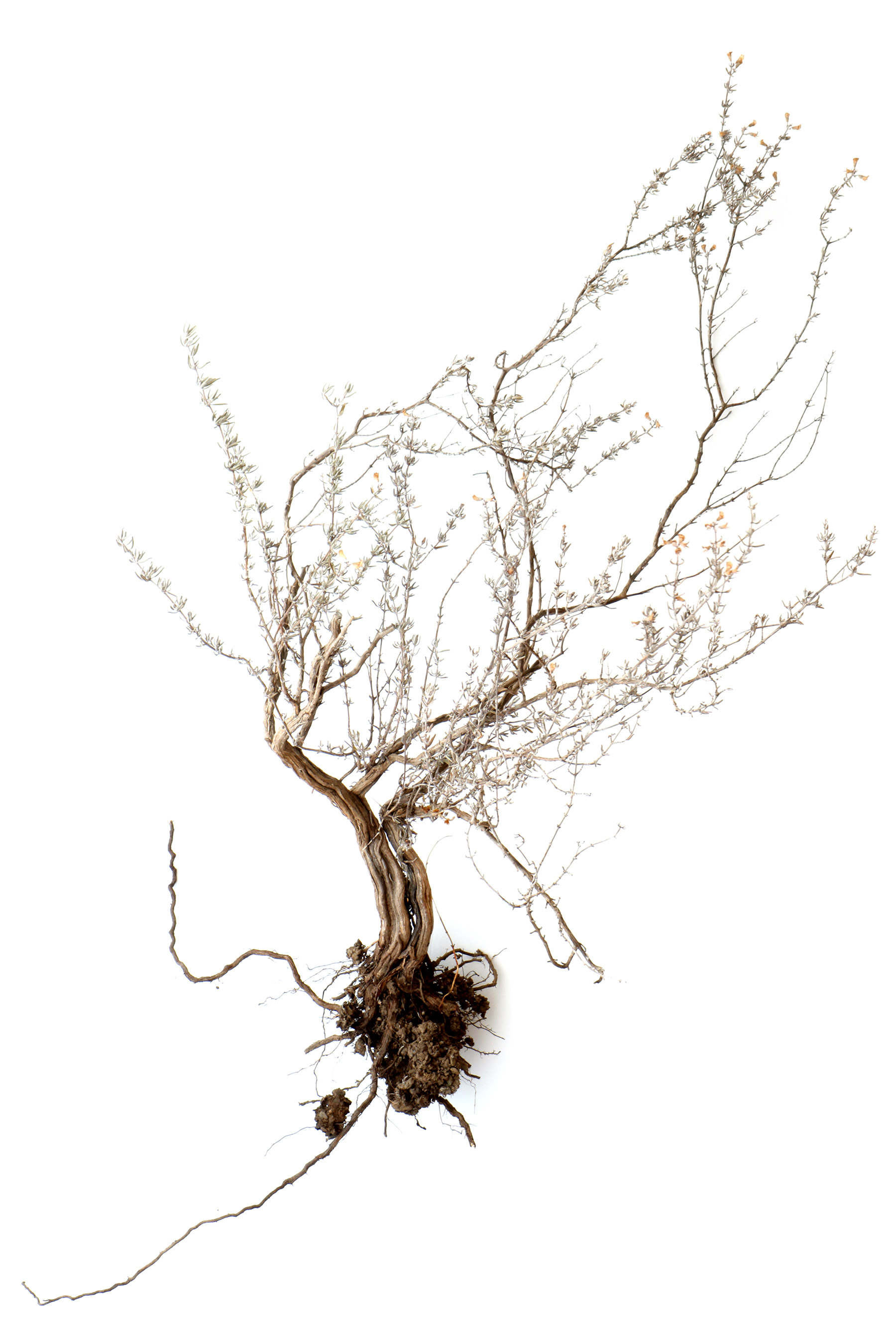 the drought here hit home today when we drove up into one of our favorite vineyards for a sunset aperitif. the grapes on most of the vines, only a week away from harvest, were little sweet peas, or chick peas, when they should have been marbles by now, or even, well, grapes. but the real devastation occurred as we pulled up to steve's secret stash. there is a shallow hillside next to an obscure gravel road, that is usually carpeted with sage colored wild thyme. most years we make our pilgrimage and steve carefully digs up one of the plants in order to add it to the potted herb garden he keeps on our terrace. this year, however, it was as if a favorite forest had been leveled by a wildfire. the entire hillside was ghostly with dried, brittle thyme branches. not a single sage colored triangular leaf in sight. he ceremonially dug one of them up anyway, and i took a picture of it, before he placed it in a pan of water, and began monitoring it like an invalid. we will see whether his nursing reveals the plant to be dead, or merely sleeping through this year, in hopes of more rain in 2017.
wild thyme
laurens, languedoc, france
Save
Save
an important part of engineering is tolerance. in other words, between which two extremes will this material function, and at which point will it fail? previously, when i was an aerospace engineer, ultimate failure was defined as "loss of craft, loss of crew." if all of the triply redundant systems that we designed failed concurrently or consecutively, the consequences were, to put it bluntly, death and destruction. these days, my experiments in tolerance have to do with the shapes, and the shades of color, of the rocks on our favorite mediterranean beach. is this rock red or reddish brown? is this rock flat enough? is it regular enough? is its color consistent, or striated? the cost of a miscalculation is relatively forgiving: "loss of rock, loss of moment." both the rock and the moment are precious of course, but it's good to keep things in perspective.
beach rocks from the mediterranean
sète, france
Save
i just read an article about relationships that sorted people into quick sparks and long burns. i am an irretrievable long burn relationship person. i have dated three people in my life, all monogamously. and as most of you know, still blog has been a very long and committed relationship as well. today's post is number 1700. that's four years and a bunch of days of never missing a single post since january 1, 2012. happy anniversary, still blog. i still love you like it's the first time.
collection of stems from the garrigue
hérault, languedoc, france
Save
Save
we arrived in southern france in the middle of a heat wave and a drought. the heat can be crippling, and a surprising number of decisions each day get made by taking the sun into account: which side of the street you walk on, when you run your errands, what time you serve dinner on the terrace, how often you water your plants, when you open your windows (at night), and when you close them and pull the curtains (during the day). the difference between sunshine and shade can feel as dramatic as walking out of a sunny afternoon into an air conditioned room.
riverside bulrushes (jonc)
l'orb river, le bouscet d'orb, languedoc, france
Save
one of my rules is that i don't photograph domesticated, culinary, or agricultural subjects for still blog, because there is too much access to them, and part of the point of still blog is finding creativity within the constraints i've placed on myself. one of my other rules, is that i don't always follow my own rules.
autignac, france
Save
Save